Season: Early Summer, Time of Day: Evening, Food Supply: Rich, Mating: Yes, Kits: Yes, Snow: No, Rain: No, Hail: No, Current Weather: Sunny,

Name: Nick-Nack
Age: two years old
Rank: fighter
Looks: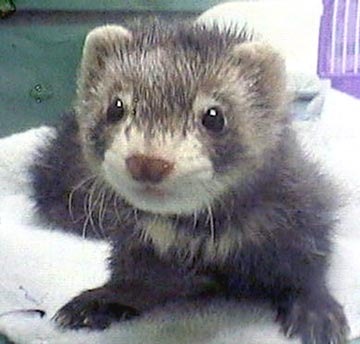 Eye Color: brown
Personality: dark, cold, often depressed, has anger managment issues
History: was owned by a boy and his sister. He lived with them and his little sister, Little Dolly. one day, their owners' friend came over and braught her ferret, Delilah, nick-Nack was instantly in love. They formed a close bond, and Little Dolly often felt left out. When he found out about Delilah's death of distemper, he met up with Al and his pack, Al told him, the only way to heal the pain, was to unleash it onto someone else. He did. His sister Little Dolly, died at his claws.
Theme Song: Sound the Bugle by Bryan Adams
aw the history is so sad.
I think the song matches in to, espessially the part...

As the seasons change,
Remember how I used to be,
Now I can't go on,
I can't even start,
I've got nothing left,
just an empty heart,

I'm a soldier,
wounded so I must give up the fight,
There's nothing more for me,
lead me away,
or leave me lieing here...
Yeah, can you imagine, a poor thing like him... in the MAFIA!
It IS sad isn't it!



Similar topics
---
Permissions in this forum:
You
cannot
reply to topics in this forum