Season: Early Summer, Time of Day: Evening, Food Supply: Rich, Mating: Yes, Kits: Yes, Snow: No, Rain: No, Hail: No, Current Weather: Sunny,

Listen to this song while you look ay the drawings. I really tried to display how Arrow really feels in these drawing, like you can see right into her soul.
The story, Cassanova was a... well, cassanova. There were many rumors of him being a heart-breaker, he'd lead females to believe that he felt strongly for them, that they were special, then he'd leave them for another female. Arrow heard the rumors, but thought to herself, 'rumors are jutst that, rumors, I doubt they are actually true, just gossip.' She then met him face-to-face through their owners' fences, they were neighbors, he slipped through the iron bars and stayed in her yard for the day, they played together, watched the clouds, and soon were in love. Turns out, the rumors were true, but this time, it was different, he was deeply in love with Arrow. They were together for days, weeks, and found that they were both deeply in love. One female named Jazmine, had a HUGE crush on Cassanova and while he was on his way to meet Arrow, Jazmine slipped in and began flirting with him. he tried to ignore her, but she rub up against him like an affectionate cat. He tried to tell her he wasn't single, but she ignored him, she also heard the rumors and thought he'd dump Arrow for her. While she was flirting, Arrow stumbled across them, she was devistated, and heart broken, she thought to herself, 'THEY WERE TRUE!!! THE RUMORS ARE TRUE!!!' Cassanova heard her gasp of shock and tried to explain, "ARROW!!! No! This isn't what it looks like!!!" But she was too blind and deaf with fury to hear him, and attacked him. She slashed her claws deep across his chest, leaving a large and permanent scar. He ran away, Jazmine ran in the opposite direction. Once they were both gone, Arrow broke down sobbing. Now, whenever they come across eachother, they insult eachother and fight. They can't stand eachother! Deep inside, both of them still feel very much in love with the other, but neither is brave enough to show it.
Listen while you look.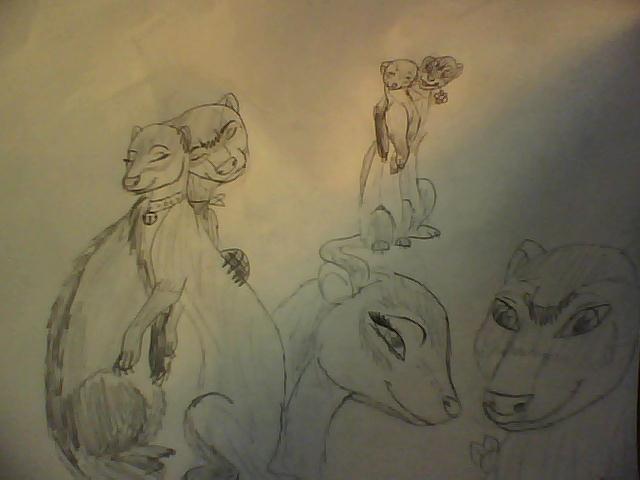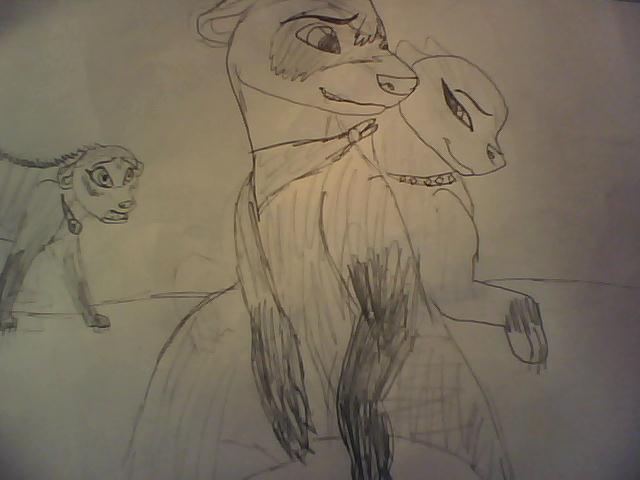 omg that is amazing!!!!! i really like the one of arrow with the two different faces and the one of her eye. i was wondering, would you draw a picture for me kusuma? like of Sparkle really sad and Starlight and JD being all lovey?
Young Adult




Posts

: 1168


Join date

: 2010-04-22


Location

: Playing with my ferrets!



Okay

I am always glad to take requests.
thanks! you draw beautifully. the music and pictures together almost made me cry.
Young Adult




Posts

: 1168


Join date

: 2010-04-22


Location

: Playing with my ferrets!



Aww thank you.



Similar topics
---
Permissions in this forum:
You
cannot
reply to topics in this forum